Windows Hosting Plans
CloudLinux Hosting Plans
Servers
VPS Hosting
gotHosting
Support Options
** Reliable Windows and Cloud Linux Web Hosting **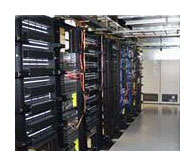 Looking for a reliable WordPress or ColdFusion Host? Are you ready for a web presence and using the NetObjects Fusion HTML authoring software? Do you need a web host who knows CMS and can help you when you get stuck? Are you tired of your old slow web hosting provider? Does it seem like every time you go to your domain it is not online? Are you fed up with your present host's lack of support? Does it seem like it takes forever to get your host to do anything for you? Well look no further.
GotHosting.biz through our parent company gotFusion LLC has been providing reliable web hosting and NetObjects Fusion training and product support since 2001. All of our web servers are state of the art high speed SuperMicro multi processor multiple core units which are housed at the Handy Networks datacenter in Denver Colorado. All of our server hardware is load balanced and NEVER over sold.
What we offer you is full "Hand Holding" support for all of your hosting and web site design needs. Your account with gotHosting.biz entitles you to a full extended support membership at gotFusion which is one of the top support sites for NetObjects Fusion and web site design . Combining the experienced support of gotFusion with your hosting plan is something that you will always be happy you did.
Shared Hosting Accounts

Reseller Hosting Accounts


Our Linux and Windows shared hosting plans start at just

$14.95 per month for two domains.

That's just a little over $7 a month per domain making them one of the best values in the industry for Coldfusion and Wordpress enabled web hosting.

All of our Windows Shared Hosting plans utilizes the advanced WSP control panel user interface and ALL plans are ColdFusion enabled.

Our Linux Shared Hosting features the cPanel control panel along with Softaculous so all accounts provide one click set up for WordPress, Joomla, WikiTiki, ZenCart and many more applications.




Our Windows Multi-domain reseller package utilize the Helm Web Hosting Control Panel

Our Linux Multi-domain reseller packages feature the WHM control panel along with Softaculous.

Pricing for either Windows or Linux reseller accounts start at just:

$49.95 per month for 15 domains.

All reseller packages include: Custom name servers, custom branded control panel, and an advanced billing system. GotHosting is completely transparent to your clients so your business name is all that your customers will ever see.





We can also provide you with VPS, self managed or fully managed Linux or Windows dedicated servers. All of our server equipment features SuperMicro hardware, and are backed by our fully redundant Cisco and Juniper network. Our self managed servers include complementary backup space and network wide DDoS mitigation.

Do you already have a web server and you are not happy with the service you get?

Move your server to our data center and let us manage it for you. You will be glad you did. We can also offer 24/7 management services for the colocated equipment you may have at other data centers



All of our hosting plans come with every feature and benifit we offer. You will not find scaled down skimpy hosting from us. Every Windows hosting plan we offer has: ColdFusion, PHP, ASP, ASP.NET, CGI, Perl, MySQL 4 & 5, MS Access, and for a small additional fee you can have the full enterprise level performance of MS SQL Server to handle your database needs. Yes, you get ColdFusion AND MS SQL Server is available even with our low cost entry level hosting plans. All of our Linux plans come fully configured so that you can jump right in to WordPress or Joomla CMS web sites. All Windows and Linux hosting packages come with POP email as well as a web based email interface to all of your email accounts. You will receive 2 statistics programs so that you can anilize your web traffic and better tailor your content to reach a broader market.
All Windows and Linux hosting packages come with a complimentary membership to gotFusion which is the #1 site for web design help and support
Our fully staffed help desk is available to answer questions about your hosting or about web design. We are here to make your web experience as pleasurable and worry free that we can.
Our hosting plans come with a full 30 day money back guarantee. If you are not completely satisfied with the service you receive you will not be billed